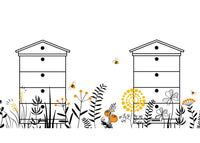 Why Beeswax?
Sister Bees partners with natures tiny friends to provide a quality product. Our signature ingredient is Beeswax. It has so many beneficial and helpful properties. It is naturally antibacterial, vitamin rich and nourishing to your skin. 
Watch the Video Below to Learn More About Sister Bees
Testimonials
Saved my Eczema Skin

I've always had skin issues on my arms and above my knees- an eczema-like situation. I put a light layer of Bee Better every morning and it has done wonders! Way better results and more affordable than what a dermatologist prescribed

Erin D.
Love This Product

This is the one product that saves my hands in the winter. I work with paper all day. Super drying! I use Bee Beautiful in the morning and before bed. No more sore, cracking, dry hands!

Christine S.
Such Smooth Lip Balm

I love how Sister Bees Lip Balm is so smooth to apply and not waxy.  Most of all I love how the moisture lasts and lasts. Thanks you Sister Bees for a great product.

Shelley B.